Extraklasse: Meerblick Poolvilla mit 5 SZ, en Suite-Bädern, im zeitlos eleganten Thai-/Balistyle
Outdoor...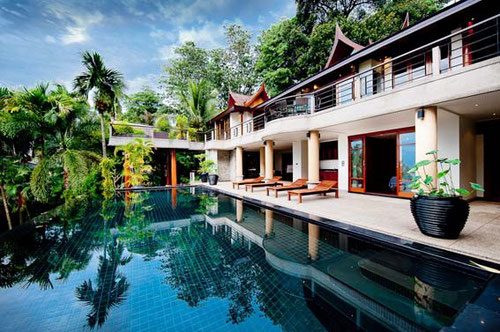 Das Objekt in der Übersicht:
Typ:

Poolvilla in Villapark

Lage

Surin

Schlafzimmer:

5

Bäder:

6

Alter des Objekts:

> 5 Jahren

Swimming Pool:

privat

Grundstücksgröße:

ca. 1.380 qm

Gesamte bebaute Fläche 

ca. 840 qm

Wohnfläche:

ca. 350 qm

Geschütze Aussenflächen

ca. 300 qm

Land-Titel:

 

Freehold Title; Thai Freehold Land and Foreign Freehold of Building


Indoor...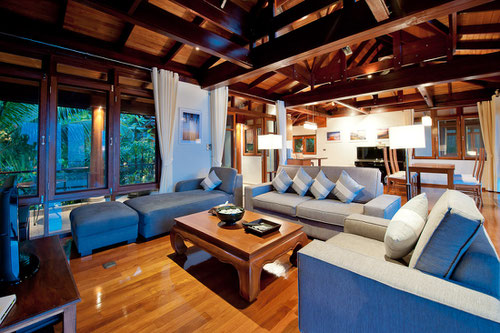 Traumhafte 5-SZ-Poolvilla uphill in Surin.
In einem sehr hochwertigen, kleinen und feinen Villapark gelegen ist diese große Thai-Bali-Fusionstylevilla eine echte Ausnahmeerscheinung. 
Die Villa im traditionellen Stil besticht durch ein atemberaubendes Exterieur, Interieur. Ein asienweit bekannter Designer hat hier einen absoluten Traum verwirklicht. Der Besitzer hat keinerlei Kosten und Aufwand gescheut, jedwedes Detail perfekt abzustimmen und für sich und die künftigen Besitzer erlebbar zu machen. Tauchen Sie ein in ein ultimatives Gefühl perfekter Harmonie und Atmosphäre, wie sie es aus kaum einem anderen Objekt auf Phuket finden können.
Und dies alles zurückgezgen vom Trubel und Treiben, aber lediglich ca. 400m vom Meer und Surin-Beach entfernt.
Kurzcharakteristik der Villa:
- 5 Schlafzimmer mit 4 enSuite-Bädern
- ca. 350 qm luxuriöse Wohnfläche
- ca. 250 qm umlaufende Terrassen und Balkone auf 3 Ebenen
- 2 hochgelegene Thaisalas mit Meeerblick
- Entfernung zum Strand: 400 m
Surin Beach - Ein Fünf-Schlafzimmer-Luxus-Thai-Stil Villa direkt über Surin Beach an der Westküste von Phuket. Panoramablicke auf die Andamanensee aus jedem Zimmer. In den vergangenen 2 Jahren wurden vielfältige Verbesserungen und Erweiterungen durchgeführt. Diese sind z. B.: 5.tes Schlafzimmer neu erstellt mit Blick auf Pool & Garten mit eingebautem Teakbett, Einbauschränken und Regalen, ein neues Büro auf Ebene des Pools mit einer neuen Verbindungstreppen zum oberen Stockwerk. Somit gibt es zwei Zugänge von der Pool-Ebene zu ersten Stock. Ferner... eine neue, doppelstöckige Sala wurde errichtet um am Pool aber auch und im ersten Stock sitzen zu können. Weiterhin wurden im vergangenen jahr neue Pool-Fliesen, eine neue Pool-Pumpe, weitere neue Brauchwasser Pumpen sowie zusätzliche Wassertanks mit  15.000 Kubikmetern Wasserspeicher verbaut.
Es wurde ein komplett neues Dach mit Unterkonstruktionen und mit Holzschutzmitteln behandelt. Filz und Fliesen: völlig neue Oberflächen auf allen Terrassen und Außentreppen, auf dem Balkon vom Schlafzimmer; Erweiterung des Haupt-Wohnzimmer sowie neuer Balkon rund um die Villa mit neuen doppelten Fenstern mit Blick sowohl nach Osten (Blick über ihre eigenen Gärten und Surin Hill) als auch Westen zur Andamanensee. Neues Gäste-WC im den ersten Stock in der Nähe des Wohnzimmers; komplette Re-Dekoration  innen und außen, neue Teak-Fußboden im ganzen Haus. Auch die Gärten wurden komplett neu gestaltet und neu bestückt für noch mehr Privatsphäre.
Die Villa befindet sich in einer der besten Lagen auf der Insel und man erreicht innerhalb 20 Minuten Fahrt den Flughafen, vier Golfplätze, darunter Blue Canyon, mit einigen wunderschönen Stränden inklusive des nur 400m entfernten Surin Beach (nur 5 Minuten zu Fuß den Berg hinunter). Surin liegt unweit der Laguna Phuket, der Heimat des Banyan Tree Hotel & Spa, The Chedi Amanpuri & Hotels sowie in der Nähe zahlreicher hervorragender Restaurants und Geschäfte. Im Gegensatz zu den überfüllten und stark touristisch südlichen Teil der Insel, ist die Gegend um Surin Beach als High-End-Wohn-und 5-Sterne-Resort-Bereich gebaut worden. Aber wenn Action und Nachtleben Ihr Thema sind, dann ist Patong ist eine kurze 15-minütige Autofahrt entfernt.
Preis: 70.000.000 Thai-Baht / ca. 1.700.000 EUR (keine Käuferprovision)
THB <-> EUR: 41,1 THB = 1 EUR (Stand Juni2013)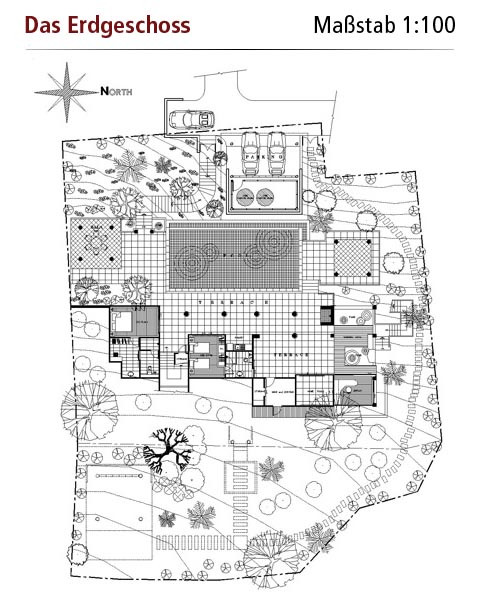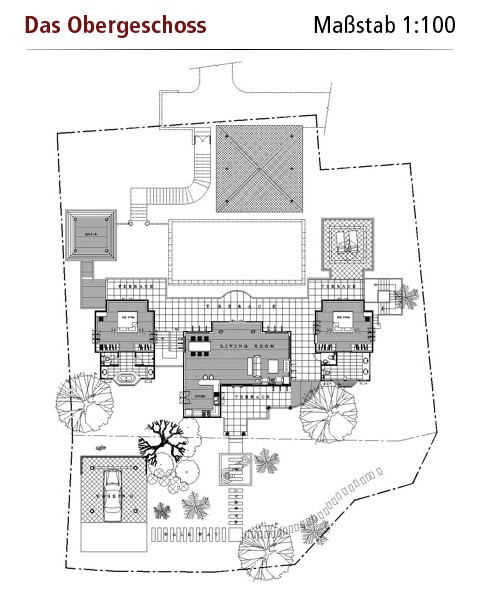 Informations in english...
Property Overview
Type:

Villa in Managed Estate

Location:

Surin

Bedrooms:

5

Bathrooms:

6

Age of Property:

> 5 years

Swimming Pool:

Private

Land plot area (m²):

1,380

Total built area (m²):

840

Indoor enclosed area (m²):

350

Covered external area (m²):

300

Title / Ownership:

Freehold Title; Thai Freehold Land and Foreign Freehold of Building
Five / six bedroom, newly refurbished, luxury Sea view Thai style villa, located just above Surin Beach in a top class managed estate on the west coast of Phuket. 

- 8 separate outdoor seating and relaxing areas!
- Year round breezes
- Elevated sunset and seaview location-surrounded by mature forest gardens.
- Easy walking to Surin Beach
- Close by shops and restaurants
- In excellent condition after extensive refurbishment.
- Top class estate management 

General:
The villa faces due west and provides superb sunsets. The villa has 840 square meters of living space on two levels. Half of the living area is comprised of outdoor terraces, salas and a 5 X 12 meter infinity edge swimming pool allowing owner and guests to take full advantage of indoor/ outdoor tropical living. Indeed few if any other villas in the estate can boast the number of outdoor covered and uncovered sating and relaxing areas. There are four covered sala areas for massage, dining and relaxing as well as an undercover sofa area beside Coy Carp ponds and separate open air dining table and covered coffee spot with table and two chairs. 

Entrances:
There are two access ways to the property through gated and secure estates, from both the front and rear of the property. The lower entrance way has parking for two cars and allows quicker walking access to Surin beach. The upper entrance is preferred for normal, and formal entrances as it brings guests into the splendour of the property through the well maintained gardens.

Living area and dining, kitchen:
Entering the villa via this upper entrance and along the lush landscaped pathways to the main indoor living level, one is met with immediate views westwards to the open ocean beyond Surin beach, framed by the mature trees on either side of the property. The stylish teak interior finishes to the living area with highly polished flooring and carefully, hand crafted , vaulted teak ceilings are well lit with natural light which floods in from all sides as well as the clever gable end skylights. The sofa area with TV and audio system is super comfy and it and the formal inside dining area both enjoy sea views. The kitchen and breakfast bar blend with the living area and provide ample space to prepare meals. Behind the kitchen area is additional space to enlarge the kitchen or add a second kitchen if ever necessary. New appliances are being fitted in early summer 2013.Overall, one may describe the ambience as opulent, but relaxed, and especially well set off by the polished teak wood flooring and exposed teak ceilings.

The villa has wireless broadband internet access, flat screen television with digital satellite channels, DVD player and a stereo system that distributes music throughout the villa that can be connected to either your own iPod, music player or computer. 

Two, main level, master suites with spa bathrooms:
The two upper king size, master bedrooms which flank the main indoor living area have beautiful vaulted wooden ceilings, and spacious ensuite bathrooms with double vanities. Both have shower areas and one has an additional bath. The bathrooms have plenty of natural light and look out upon private forest garden areas which give a very natural and enchanting effect to these rooms. Each has a teak bed, comfortable hotel quality mattresses and plenty of closet space. Speakers in the bedrooms and control units by the beds allow listening to the villas music system. 

Upper level outdoor relaxing:
Infront of each master bedroom is a sala area or terrace area. On the right hand side is a substantial outoor sofa area which has some of the best ocean views in the property. On the lft hand side is an upper, covered, Thai dining/relaxing area with bamboo backdrop. Both of these areas look over and down the 10m private saltwater pool.

Pool level bedrooms:
On the lower level are the third bedroom with queen size bed and private enuite bathroom with shower.

The fourth bedroom has two single beds. It's ensuite bathroom has a second entrance door allowing it to service the fifth bedroom which has a queen size bed. All beds have super thick, 5 star hotel quality mattresses. 

A multi use room beside the 5th bedroom is currently configured as a home office but is equally well suited to being used as a 6th bedroom or media room.

Alfresco living:
One of the great features of this villa is that the owners maximised the outside, alfresco living area design. Thus, guests can enjoy garden area seating, several covered but open air living areas on both levels and large open air covered twin level salas for relaxing, dining or massage.

Pool area:
All these rooms have direct access to the pool deck level which has plenty of sunbathing decking area and also interconnected Coy Carp ponds.

The pool is newly refurbished ( completely new systems, tiling and surrounds ) and is a generous 12m x 5m. It has a separate jacuzzi section with space for four.

Lower sala areas:
At either end of the pool are covered sala areas. Currently one has twin sun / massage beds, whilst the other has a 6 person dining table set. 

The recent full refurbishment:
The 2012/2013 refurbishment and improvement programme saw new teak flooring and redecoration inside and a new roof, all new patio and outside star ways and redoing of the pool by way of retiling and new systems. The living areas were brightened by the inclusion of professionally fitted skylights and greater use of glass panelling. The exterior of the house has been thoroughly made over to bring a contemporary feel to what is a design echoing traditional Thai architectural features. A back up 15,000 litre stare storage facility was also added. The gardens were re landscaped and restocked with tropical plants and trees.

Summary:
All in all a well designed and maintained up scale ocean view property in the sought after Surin area and just a short walk to Surin's beautiful beach and renowned restaurants and boutique shops.

Priced competitively compared to other villas in the estate and area, and in excellent condition. Potential buyers are encouraged to visit and absorb the peaceful and welcoming feeling to be found in the villa. This is definitely a Thai style villa to enjoy the best of a tropical Phuket lifestyle
Price: 70.000.000 Thai-Baht / ca. 1.700.000 EUR (no commission!)
THB <-> EUR: 41,1 THB = 1 EUR (Stand Mai 2013)
Unverbindliche Anfrage