Kamala: 3-SZ-Penthouse-Poolvilla mit 17-Meter-Pool in grandioser Berglage...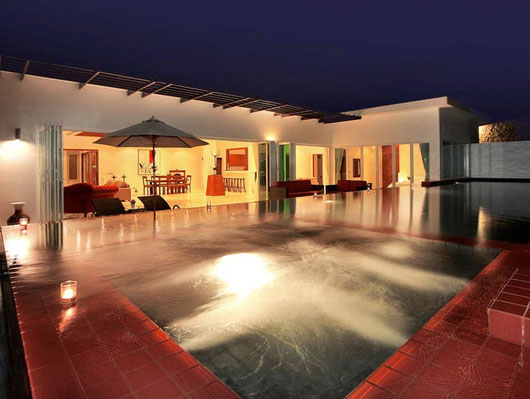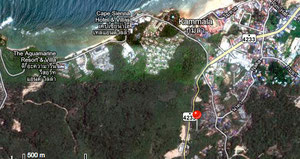 Die Penthousevilla der Superlative in Kamala, Phuket
Die Fakten:
3 Schlafzimmer, 4 Badezimmer

Innenbereich ca. 325 qm

Aussenbereich ca. 400 qm

17 meter langer Pool mit zusätzlichem Jacuzzi

Küche westlichen Standards

High-Speed-Internet, 

Heiss/-Kaltwasser 

voll klimatisiert

Telefon

Waschmaschine

Parkplatz
Weitere Informationen
24-Stunden-Maintanance

Ägyptische Baumwoll Handtücher

Luxusbettwäsche

Ausklappbett mgl. ohne Aufpreis

Fitnessraum im Resort ganztägig kostenlos nutzbar

4 St. HD-Fernseher

BOSE iPod-Payer

JBL Sound System

DVD-Movieauswahl
Services inkl.
Hausservice, 2x Reinigung wöchtl., 1x Wäschewchsel wöchtl.
Zusätzliche Services:
wie z.B. Inhouse-Koch, Inhouse-Massage, Fahrdienste mgl.
Diese Luxus-Penthousevilla mit ca. 325 qm Wfl. bietet die wohl atemberaubendsten Meerblicke überhaupt. Und dies von einer der höchsten Berglagen der Gegend. Umschmeichelt von viel üppigem Grün fühlt man sich hier oben auf dem Dach der Welt. Wer hier einmal den Sinnenuntergang vom Poolbereich aus geniessen konnte, wird diesen nie vergessen! Uns jedenfalls erging es so.
Der Pool ist 17 Meter lang und mündet in einen großen Jaccuzzi. Schiebe und Falttüren auf zwei Seiten eröffnen fantastische Panorramen, vom Wohnzimmer, der Küche, dem Esszimmer aus... Ihr Blick kann hier ungehindert schweifen. Das Ambiente überzeugt ebenfalls im modernstem asiatisch-westlichen Fusionstyle ohne dabei zu kühl und elegant zu sein. Üppige, superbequeme Sofalandschaften laden ein es sich wirklich gut gehen zu lassen.
Und falls Sie das Haus nicht verlassen wollen, können ein Inhouse-Chefkoch und Inhouse-Massagen gegen einen geringen Auspreis für Sie organisiert werden. Sollten Sie selbst den Kochlöffel schwingen wollen, steht Ihnen eine vollausgestattete Küche mit edlen Granit- oberflächen zur Verfügung.
Die Entfernung zum 2,5 km langen Kamala-Beach ist gerade einmal ca. 300m. Auch erstklassige Restaurants finden Sie nur einen Steinwurf entfernt.
Wir meinen, hier können Sie es sich gut gehen lassen!
Tagesmiete 750 USD / rd. 575 EUR (Hochsaison)
deutlich günstiger... die Monatsmiete ab 8.900 EUR (Hochsaison)
Irrtümer und Preisänderungen vorbehalten.
Unverbindliche Buchungsanfrage
Kundenmeinungen/Reviews...
Vik, New York
Feel like a Hollywood Celebrity vacationing
Serene and calm surroundings that relaxes one's soul instantly. The views were breathtaking,modern kitchen, rooms were well kept, with fresh linen and towels. Entire property was cleaned on a regular basis. The pool was very original with a fantastic view and the entire vibe of the place give's one a sense of being at a Hollywood celebrity's home.
ash, guangzhou
was perfect for us. we came in with 2 families with small children and the view was stunning and pool was perfect. house had all that is required for a holiday.
all amenities are available in the house. full kitchen, very nice bathrooms. beds were a little hard.
transport was not a big problem. u can ask the management centre down the hill for a number and the driver will come in about 15 minutes. kamala is the nearest town about 3 mins away but there is not much to do there. patong is the nearest place with something happening and is only about 10 mins away.
The only thing that could be better is cleaning should be done daily.
June, Singapore
Modern and relaxing
We had two very young children with us and the flat suited them well. We loved the swimming pool and the rooms were all very nice sized and comfortable. We had a lovely stay. The things that I would improve about the flat would be the draining of the showers (very slow and blocks easily) and new pans for the kitchen. Overall a really pleasant stay and would highly recommend it.
Mummy of H, Winchester
Fantastic place to stay
Spectacular views, well kitted out apartment, lovely pool.
Great place to relax, unwind & catch up with friends & family. Great facilities. Professional agent to help with finding & driving to the apartment & settling in.
5 min drive to Kamala town, 15 mins drive to patong - well located for restaurants, supermarkets & stroll around town. Car necessary for stay. We had 2 small children & there was a foldout bed for a nanny to babysit for one night which was very handy. Had to hire own cots from a local company. Having a washing machine and a dryer was very convenient, the cleaner also came once during our 4 day stay. Beach towels provided.
Over complicated payment system but owner was friendly & accommodating. Would highly recommend for a fabulous stay.
Shalini, Delhi
Magic
I've just returned after 4 days in paradise. This skyhouse is absolutely stunning. The views of kamala bay are magnificent and the place is the epitome of comfort and luxury. Every little detail is thought of - the furniture and the decor blend beautifully and I think I had the best sleep of my life in the quietude and the ultra comfortable bed. The pool is completely private and long enough to get some good exercise to begin the day. It was my little haven for four days and I would go back in a heartbeat.
Byron, Singapore
Good beautiful view, fantastic host
It was a last minute thing for us when we got to phuket and were frantically looking for a place. We enquired about this place at the very last minute and the host (Mr. Desai), was very helpful and patient in arranging a stay for us. Thanks for that :)
When we got to the villa, it truely was all there for us to see. The view was fabulous, the furniture gorgeous (loved the gong)
The pool was amazing, however it gets a little cold at night
Espacially loved where it was situated in Kamala. The breeze and the sunset was amazing.
Thank you for the wonderful apartment and the airport transfer. :):)
Awesome place to stay in! Will recommend it to anyone.
Irina, Moscow
We fell in love with this house!
I look at my pictures from vacation in this villa and I want to cry from happiness. Thanks, it was a wonderful time! We especially liked the pool and terrace. We enjoyed every evening there.
Samir, Los Angeles, CA
Awesome at sunrise, sunset and in between
I've stayed here twice and thourougly enjoyed it both times. Its spacious and clean with a contemporary design and the pool is fantastic. Great place to entertain or just be. Generally centrally located to that part of the island. Not too far from the beach, shopping, market and great, great food.
KP Singh, Delhi
The beautiful and the blessed!
This is a little piece of the beautiful life. And Spacious, stunning minimalistic with awesome views, its a place to escape. To rejuvenate. To find yourself. Woke up by jumping into the infinity pool, had a lazy champagane brunch, watched the perfect sunset from the wrap around balcony with a espresso and danced under the stars at night all in one apartment. And then did it all over again.
Let the uninitiated discover the rest of phuket. Stay put you already found the best part.
NoName, Japan
Unforgettable Vacation Home 
We had a fabulous time in this luxurious penthouse for 10 days in November 2011. The view from the house is truly breathtaking. Gorgeous mountain foliage on one side and blue andaman Sea on another side. I truly enjoyed every moment of my stay in the house. Waking up every morning and listening to all the sounds of nature. I am a big swimmer and I just loved the marvelous pool. I spent hours in the pool enjoying the sunset, moving clouds, shining stars and swaying trees. The rooms were all well-appointed
with modern furnishings. I even enjoyed simple cooking in a modern and spacious kitchen. Great maid service. This penthouse is truly the best vacation place I have ever stayed. We will remember and talk about it for a long time. Would love to come back.
manisha, bombay
Jewel in Paradise
This place combines both the comforts of home with the luxuries of a hotel. To wake up and rejuvenate your senses with a dip in the pool just as soon as your eyes open. Breathtaking views of the ocean make it an ideal hang out pad that one rarely wants to leave.
Arjun Sawhny, New Delhi
Lavish apartment, extremely private, with a breathtaking view
The apartment is ideally located on the top of a hill with a private pool that overlooks the mountains on one side and the sea on the other. The apartment is decorated to a high standard with a fully loaded kitchen. One will require to hire local transportation to enjoy the stay
SEA-Traveller, Singapore
Fabulous views, spotless Villa - a private paradise
We spent 10 days here in November 2011. We had a splendid holiday. The unit is enormous. It has its own private 17 meter pool - overlooking a lush green forest on one side, and seaviews on the other.
The unit offers incredible privacy - we could just drive our car up to the doorstep - and in that sense, it is like having a villa in the Sky. The view from the living area is just breathtaking.
This place is fantastic for honeymooners - while at the same time being family friendly. The residence is fully equipped. Housekeeping service was great - matter of fact, the housekeeper even did our laundry and ironed our clothes.
With a large sized kitchen, we had no excuse to go out or order in, but with plenty of restaurants in the vicinity and delivery options, there's lots to choose from.
The living area is bathed in sunshine, with the sliding/foldable doors letting in natural cool breezes most of the day. It is also a nice place to stargaze at night.
The owner was very prompt and easy to deal with. We will certainly come back again.
Frans, Port Elizabeth
Luxury penthouse with stunning views
Fantastic apartment! Fantastic location! We stayed for one week in September & loved every minute. The spacious penthouse was spotless & had everything we needed, the sea view is truly amazing. The large outdoor living area with Jacuzzi and 16m pool was great, a lovely way to relax when not at the beach. Owner was very helpful & very easy to deal with. Have already recommended to friends & family and we will definitely book again next time we are in Phuket - Thank you F.